HONG KONG – GRE Alpha, a leading LED power supply manufacturer, introduces its groundbreaking ENO-DIM dimming module. The module integrates GRE Alpha's proven smart dimming technology with EnOcean's innovative energy harvesting technology.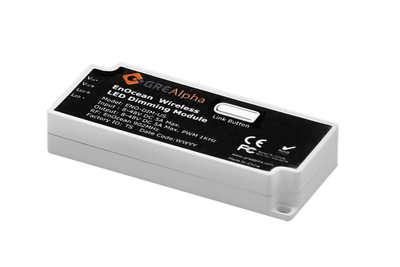 The module is compatible with any EnOcean-enabled wireless switch and operates at a high-reliability proprietary frequency band, thus allowing for interference-free near-instantaneous feedback. The ENO-DIM is available in three regional power supply versions: 902MHz in North America, 928 MHz in Japan, and 868MHz in Europe and China.
The single-channel ENO-DIM module hooks up in minutes to any constant voltage LED driver, including an existing DC power distribution panel or at any point in an existing lighting circuit. The ENO-DIM module operates at a maximum 5 Amp capacity and can support up to 30 EnOcean wireless energy-harvesting devices. The module adheres to UL8750 standards and is IP20-rated.
This dimming module makes it possible to easily retrofit existing wired lighting control systems with simple to install wireless switches. These switches utilize the energy created by the touch of a button to send a wireless signal to the ENO-DIM module. There are no batteries or wires required, and switches can be mounted anywhere.
ENO-DIM applications include architectural lighting, effect and contour lighting, general commercial illumination, warehouses, signage, strip lighting and more. The ENO-DIM dimming module is one of the most innovative products in the industry. By combining GRE Alpha's dimming technology with EnOcean's self-powered sensors and switches, GRE Alpha is paving the way for industrial lighting systems that are sustainable and energy-efficient.



About GRE Alpha
GRE Alpha® Electronics, Ltd. specializes in the design and manufacture of solid-state lighting power supplies and lighting control accessories which are the lifeblood of indoor and outdoor LED lighting systems. Unlike many in the LED industry, GRE Alpha focuses on a modular approach. Their products can be used either in conjunction with existing systems or with new setups.
With more than two decades of power conversion expertise and a commitment toward innovation, GRE Alpha engages with industry pioneers to deliver highly efficient, installation-ready and agency-approved LED power conversion products for a wide variety of industry applications.
Filed in: New Product