Today we are excited to be sharing news about the Tokyo Lighting Fair that took place from March 9th to 12th at the Tokyo International Exhibition Center (Tokyo Big Sight). Normally, one of the largest comprehensive lighting exhibitions in Japan, this event observed Covid protocols and attendance was strictly limited.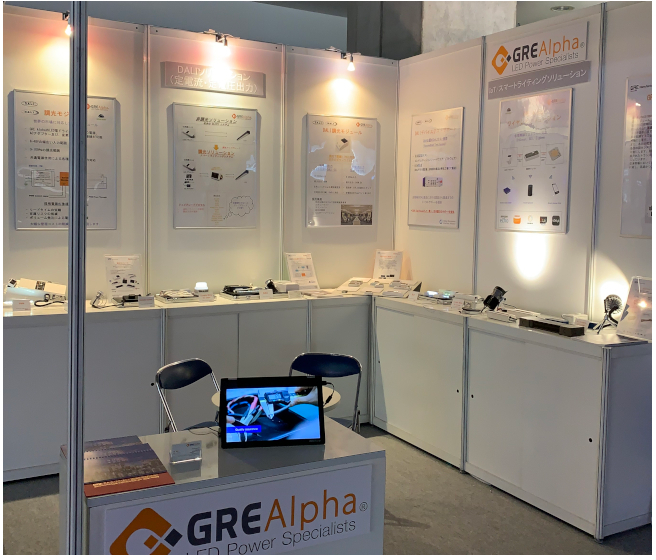 As you may know, to further our goal of providing quality LED power solutions to different corners of the world, GRE Alpha opened a Tokyo office in 2017. The Tokyo Lighting Fair was a superb opportunity to exchange ideas with our Japanese customers and friends. It was GRE's first in person event since the Pandemic began, and we genuinely enjoyed the opportunity to make that human connection again.
On display at the GRE booth were some of our most advanced modular and dimmable LED drivers created by working with leading partners in the lighting field, like Citizen and EnOcean. These are lighting control modules that have been enhanced in multiple ways to provide more performance flexibility and meet specialized customer needs.
ENO-DIM-JP – GRE Alpha's EnOcean® dimming module, designed with 6 individual lighting segments, allows for smooth, flicker-free diming of lighting fixtures using any of EnOcean's® certified energy harvesting wireless switches. Compatible with any constant voltage LED driver, the diming module allows for seamless integration into existing LED lighting systems or new building automation projects with ease.
TUNABLE WHITE FOR CITIZEN – GRE's tunable white dimming module with EnOcean® energy harvesting switch seamlessly integrates with Citizen's white COB allowing for separate tuning of brightness and color temperature. This collaborative effort will lead to continuing new developments in greener, more effective lighting.
6-IN-1 DIMMING MODULE – GRE Alpha's 6-in-1 dimmer with built-in thermal shutdown provides full range 0-100%, smooth, high resolution diming performance for a wide variety of constant voltage LED diming applications. Flexible and easy-install, this unit comes with a multi-colored LED indicator and integrated strain relief and terminal cover.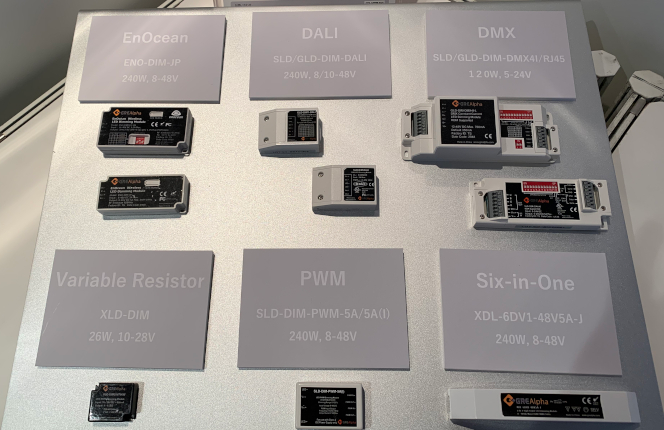 Dimming modules which meet Global standards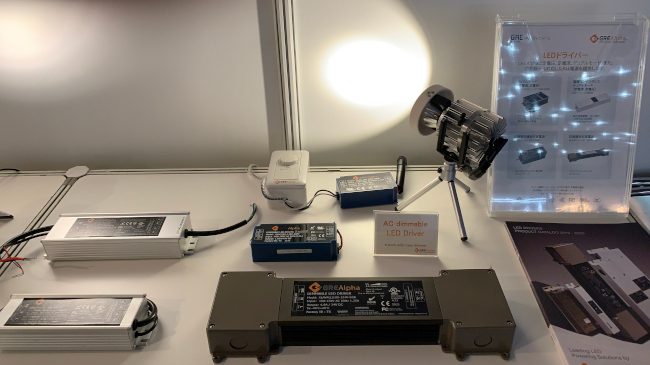 Flicker-free dimming in action
Also on display were GRE Alpha's SLD/GLD Dali intelligent dimmer for home automation, the 95% efficient Smart-Dim-PWM (pulse width modulation) 240W LED dimming module, and the revolutionary XLD-Dim Eco-Dim DC variable resistor.
As promised, GRE's expert team will continue to work intensively to meet the worldwide demand for smart connected lighting with new power supplies used for smart and IoT lighting as well as upgrades to existing products. Thanks to events like the Tokyo Lighting Fair, we get the input and inspiration needed to develop new and better products.
If you have any question about the products mentioned here, are seeking driver selection expertise or anything else, we are here for you. Please do not hesitate to contact us. Our customer service and support teams are always happy to help. Looking forward to connecting with you in person soon.
Filed in: Company News