The LED has come a long way since its invention more than 50 years ago. From instrumentation indicators to digital clocks to holiday displays and more recently smart buildings, the application options for LEDs seem limitless. As environmental awareness increases, more consumers look to benefit from the energy efficiency and durability of LED lighting systems.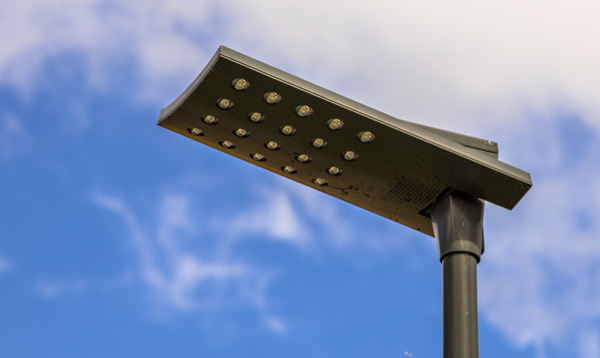 LED street light
Municipalities also increasingly look to tap into these benefits by replacing dated energy-guzzling streetlights with more efficient LED street lighting. Manufacturers responded to the demand by forming partnerships and developing the LED technology to meet the more rigorous standards for street lights. Along with decisions about illumination, color, intensity, connectivity and ingress protection, the most important consideration for a street lighting retrofit must be the driver which supplies the power and controller to the LED. So what are some key factors to consider when choosing an LED driver for a street lighting system?
LED Streetlights Driver Positioning


LED streetlights must be durable as well as easy to maintain. More and more manufacturers are responding to this demand by designing systems with remote LED drivers that reside in the junction box at the base of the streetlight instead of inside the fixture at the top of the pole. This allows for easier maintenance as the driver tends to be more prone to failure than the LED. Easier maintenance means added savings to municipalities.
Remote drivers also play a role in LED thermal management. LED drivers are traditionally built into LED fixtures on the head in front of the LED module. During the voltage conversion process, LED drivers produce thermal energy which gets trapped in the housing and transferred to the LED. High temperatures lead to premature failure. LED fixtures with remote drivers are exposed to less heat and are therefore more durable than their built-in counterparts.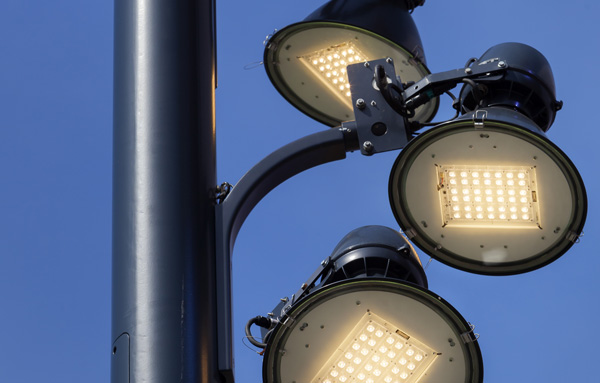 Multiple LED street light installation
Surge Protection and Overvoltage


LEDs operate at low voltages and are more sensitive to overvoltage than traditional bulbs. Standard LED drivers are designed to withstand overvoltages from 2kV to 4kV, but streetlights are subjected to much higher degrees of voltage fluctuations. Power grid overvoltages, for example, can reach as high as 6kV while lightning strikes are known to generate overvoltages as high as 10kV. Electrostatic discharge (ESD) generated during routine maintenance can also impact unprotected LEDs.
High overvoltages can cause high currents and the premature aging of LEDs, leading to reduced service life and decreased economic benefit to municipalities. Designers must, therefore, consider adding a quality surge protector aptly rated for the intended application environment.



Lighting Control


If future expandability is critical, then controller capabilities must also be a consideration. Digital Addressable Lighting Interface or DALI-based controllers are becoming increasingly popular for street lighting control. Not only because they can be upgraded to wireless, but also because these controllers offer greater compatibility with existing lighting control systems. DALI controllers are simple, scalable, flexible and robust. DALI can control individual LEDs or even groups of LEDs and are easily reconfigurable for changing conditions.



Conclusion


Rapidly evolving LED technology has opened the door to new applications in public street lighting as cities worldwide seek to reduce costs and improve night visibility. The complexities of municipal street lighting require that designers consider many factors when specifying a conversion, chief among which are LED driver attributes. The most effective drivers are easy to maintain, offer surge protection, lighting control and ensure LED longevity.
References
Bullough, J. D., Lighting Research Center., New York State Energy Research and Development Authority., & New York (State). (2012). Guide for optimizing the effectiveness and efficiency of roadway lighting. Troy, Ny.: Lighting Research Center.
Drivers enable next-gen LED street lighting. (January 01, 2012). Electronic Products New York-, 54, 12, 44.
Signorino, I. (May 01, 2012). Drivers enable next-gen LED street lighting: What designers must consider when selecting a driver, focusing on why eliminating the step-down transformer is a good idea. Electronic Products, 54, 5.)
Filed in: Industry