Smart LED Luminaires Enable IoT Integration


Compared to incandescent and fluorescent lighting, LEDs offer many advantages including long lifetime, higher energy efficiency, lower life cycle costs, and improved light quality. But LEDs are more than just replacements for traditional lighting solutions. They are also inherently electronic devices, and when controlled with smart dimming modules and power supplies used for smart home lighting and building lighting, LED luminaires can easily be integrated into the smart networks and digital control systems that are beginning to comprise the Internet of Things (IoT).
There's been considerable activity in the lighting industry related to IoT, and the subject was a major topic of interest at the 2018 LIGHTFAIR® International Trade Show in Chicago. GRE Alpha displayed several products at the show including DALI dimmers that are key components in IoT-based LED lighting systems when integrated with power supplies used for smart lighting, sensors, and modules that enable WiFi dimming and control through smart networks.
IoT-based LED lighting has the potential to offer important features and capabilities such as:
Ease of monitoring LED luminaire status and the life cycle of LED lighting elements
Generation of analytics to improve lighting system performance
Tracking of user behavior to help optimize the user experience in a home or building, or to attract attention to product displays in retail spaces
Personalization of lighting experiences by connecting, for example, to a profile on a user's smart device
Since lighting is everywhere in a home or building, and since LEDs are easily integrated into digital controllers, LED luminaires can potentially offer additional functionality such as air quality monitoring, room temperature monitoring, communication with other smart devices over WiFi or power lines, and even visual light communication (VLC) to other smart devices. With the potential to serve in so many roles, LED lighting systems can serve as key components of backbone of the Internet of Things in homes, commercial buildings, and industrial applications.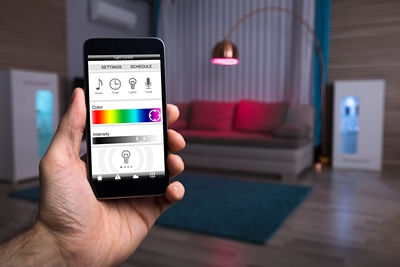 A New IoT Lighting Standard


To guide manufacturers in developing IoT-based LED lighting solutions, the IoT-Ready Alliance, which includes leading lighting, building management, and IoT companies, introduced the first IoT interface specification for enabling future-proof intelligent buildings. Their Interface Specification V1.0 defines a socket that allows any IoT sensor or control module to connect to a luminaire or other building system. The standard includes specifications for mechanical, electrical, and software, and it allows for parts to be retrofitted or replaced on site. It is independent of network protocol, which means that IoT-compliant products can connect via wireless or wired networks to integrate with LED lighting systems. Supported networks include Thread, BLE, ZigBee, Z-Wave, Wi-Fi and IP/Ethernet networks.
The IoT-Ready Alliance specification V1.0 is designed to enable rapid growth in the IoT lighting sector and to ensure smart buildings incorporate the full advantages of LED luminaires and power supplies used for smart lighting now and in the future.
GRE Alpha is working with industry leaders and standards organizations to create next-generation IoT-integrated LED dimming modules and drivers. A current path to IoT-ready lighting solutions includes LED power supplies coupled to dimmers that conform to the Digital Addressable Lighting Interface (DALI) protocol. DALI dimmers such as the GRE Alpha SLD-DIM DALI dimming module provide flexibility and ease of use for smart home lighting automation projects, while the GLD-DIM module, which has an available DALI version, is a compact dimming module that serves as an add-on for constant voltage LED drivers. Both modules are fully compatible with LED power supplies used for IoT lighting and can enable network and WiFi dimming when coupled with power supplies used for smart lighting.
About GRE Alpha
GRE Alpha® Electronics, Ltd. specializes in the design and manufacture of solid-state lighting power supplies and lighting control accessories which are the lifeblood of indoor and outdoor LED lighting systems. Unlike many in the LED industry, GRE Alpha focuses on a modular approach. Their products can be used either in conjunction with existing systems or with new setups.
With more than two decades of power conversion expertise and a commitment to innovation, GRE Alpha engages with industry pioneers to deliver highly efficient, installation-ready and agency-approved LED power conversion products for a wide variety of industry applications.
www.grealpha.com
Filed in: Industry