Indoor horticulture is becoming the future of agriculture faster than anyone ever imagined. The world population is growing while available land for farming is decreasing, creating the need for more sophisticated indoor food production methods. The lighting system is perhaps the most expensive and critical part of a successfully controlled agriculture environment (CEA). Deciding which technology to use is therefore very important.
Indoor horticulture has been around for some years by way of greenhouses. This method allowed for some control of the growing season but still relied heavily on the sun, making it difficult to implement in areas of the globe with minimal sunlight.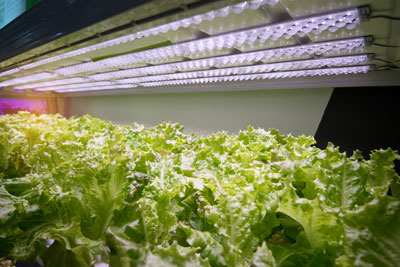 Hydroponic Grow Lights
As lighting technologies improved, so did indoor horticulture. The greenhouse became the staple for hobbyists while commercial growers began to experiment with large-scale indoor food production and horticulture.
At first, growers used fluorescent tube lights to grow herbs and vegetables indoors. But the fluorescent tubes were not rugged enough for commercial applications and required frequent replacing. Compact fluorescent lights (CFL) offered an improvement to the tubes as they use less energy and emit minimal heat, thereby allowing farmers to grow more plants in less space. But just like the incandescent light that preceded fluorescent and CFL technology, growers had minimal control over the systems.
High-pressure sodium (HPS) lights became the choice for most commercial indoor growers as they viewed the technology as established and dependable. However, HPS lighting systems require a substantial investment and produce a lot of heat. This means that plants must be kept at a safe distance.
LED system manufacturers looked for ways to fill the void in the horticultural lighting industry by designing technology that is more rugged, lasts longer, and gives growers greater control over the growing environment.
There are many advantages to using LED grow lights over the other available technologies. The primary benefit is lower energy costs, as much as 70 percent over the more traditional lighting technologies. LEDs also last on average 10 years as opposed to the traditional grow lights. This means a significant reduction in overall costs as frequent replacements cost time and money.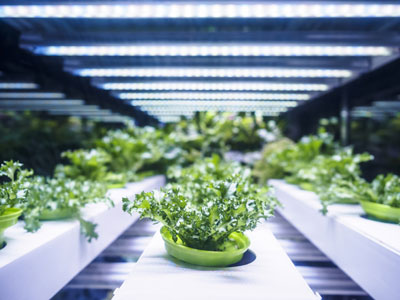 Lights like these can last up to 10 years
Last, but not least, LED grow lights give growers complete control in specifying the wavelengths of light that reach their plants. Blue and red colors tend to be ideal for the majority of plants. This is why horticultural lighting tends to be purple as growers can select just the right amount of blue and red to create ideal growing conditions. Furthermore, the system can be programmed to provide more lighting at night when energy costs are lowest, making this the most energy-efficient grow lighting system available.
Of course, an LED grow lighting system is only as good as the LED driver and other essential components that serve as the backbone of this technology. At GRE Alpha, we pride ourselves at producing the most advanced and dependable powering and lighting control solutions for horticultural and grow lighting applications.
Our LED powering solutions are ideal for indoor horticulture as they are both robust and flexible. Our lighting control modules can also be added to enable complete color tuning. Our XLD and SLD Series of dual-mode, easy to install AC/DC LED drivers fit perfectly in any indoor agricultural environment. Our SLD-DIMTW tunable white dimming module enables smooth and dynamic color temperature shifts of 2000K to 8000K, allowing growers complete control of the lighting in their growing environments.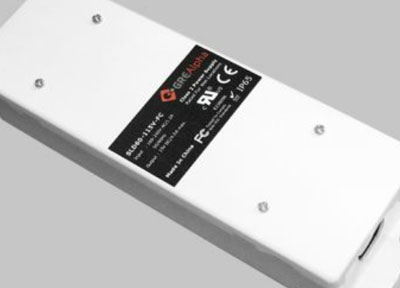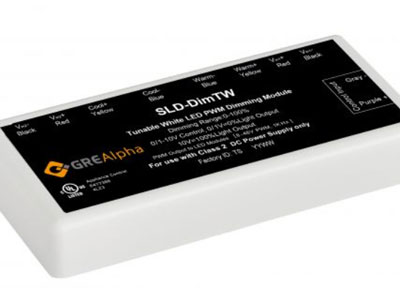 XLD and SLD series Easy Install (left) and SLD DIM TW tunable white (right)
While some may be discouraged by the initial investment, when all is factored in, LED grow lights offer far superior light quality, longevity, and return on investment than any other grow lighting systems available on the market.
About GRE Alpha
GRE Alpha® Electronics, Ltd. specializes in the design and manufacture of solid-state lighting power supplies and lighting control accessories which are the lifeblood of indoor and outdoor LED lighting systems. Unlike many in the LED industry, GRE Alpha focuses on a modular approach. Their products can be used either in conjunction with existing systems or with new setups.
With more than two decades of power conversion expertise and a commitment toward innovation, GRE Alpha engages with industry pioneers to deliver highly efficient, installation-ready and agency-approved LED power conversion products for a wide variety of industry applications.
www.grealpha.com
Filed in: Industry