LightFair International 2022 - A Recap
With LightFair 2022 now behind us, we want to reflect on how amazing it was to participate again this year.
Exhibitions have always been about bringing sellers and buyers together. After a period apart, participants, including GRE Alpha, were able to collaborate and share new products and ideas.
Here's a short recap to get everyone excited about the months ahead—and looking forward to LightFair 2023.
Networking at LightFair
LightFair International is one of the best places for meeting and networking with thought and industry leaders in the LED lighting space. The focus this year was on lighting fixtures, control products, LEDs, architectural lighting, landscape lighting, and much more.
On the event floor, we had many discussions driven by the various dimming and LED driver products we offer, from BLE to 0-10V to phase dimming.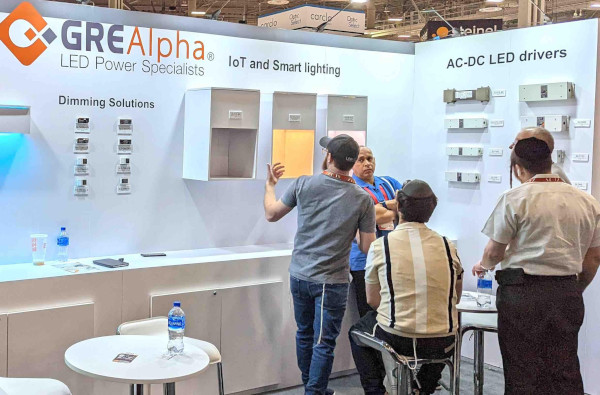 The GRE Alpha Booth
At the GRE Alpha booth, we saw rising interest across several of our products—live demonstrations were a favorite among industry visitors. We had the chance to highlight our app-controlled, multi-color FlexLight production sample during demos, as well as our wide variety of dimming modules. There was keen interest in our highly adaptable wireless models, as well as a continued focus on innovations contributing to energy conservation.
New products for this year's LightFair included our 5-channel RGB + tunable white module and our multi-function module controlled by Casambi BLE and Tuya BLE. This innovation was made possible by our cutting-edge partnership with Casambi in 2020. Lighting professionals also put our most popular models, such as the SLD-DIM1B and the SLD-DIMTW, through their paces.
Compared to past shows, we saw some increased interest in various outdoor models (such as the XLD75 and the XLD200) when paired with our dimming modules.
You can find all of GRE Alpha's dimming modules here.
Looking Forward to Next Year—and Beyond
GRE Alpha is happy to announce that we will be attending LightFair again in New York City in May of 2023. For now, you can browse our selection of dimming modules and other LED lighting technology that we highlighted at this year's event!
Filed in: Company News