DALI and IoT – An Overview


Lighting designers have been working for decades to bring intelligent automation and control to architectural and industrial lighting systems. The international adoption of the Digital Addressable Lighting Interface (DALI) in 2000 was a major step forward in this effort. DALI enables the creation and integration of scalable and smart lighting systems into intelligent networks and the Internet of Things (IoT) by standardizing the way in which components and power supplies used for IoT lighting exchange diagnostics, command, and measurement data. DALI and IoT offer designers a robust, reliable, and cost-effective protocol for creating smart next-generation lighting systems.
As part of its effort to deliver the best LED power supplies and modules for smart lighting systems, GRE Alpha works as an active partner of the global DALI alliance to bring the benefits of DALI-certified dimming modules to lighting designers. This article explains and outlines the benefits for lighting designers of using DALI dimmers and power supplies used for smart lighting for lighting solutions connected to the Internet of Things.
The DALI Protocol


Digital Addressable Lighting Interface (DALI) is an open protocol defined by the international standard IEC 62386 and IEC 60929. When first drafted in 2000, DALI brought lighting within the realm of digital control by enabling two-way digital communications with dimmable ballasts, transformers, relay modules and other components. Since the DALI standard was established industry wide, DALI-certified components from multiple manufacturers were compatible with each other. Components are certified as compliant with the DALI standard by the Digital Illumination Interface Alliance (DiiA), an open consortium of companies that helps to standardize and promote DALI-based lighting solutions.
DALI dimming modules, ballasts, and other components make up a simple two-wire network of up to 64 individually-addressable components that can be controlled and monitored using standard commands and protocols. The protocol is compatible with the operation of a wide variety of lighting systems including LED, fluorescent, HID, and halogen. DALI devices can be programmed individually or in groups to enable a high degree of flexibility because lighting systems can, in many cases, be reconfigured in software, without the need for rewiring.
DALI also allows two-way communication, which means devices can report a failure or respond to a status query. Devices can be configured to turn on and off, dim from 0-100%, and remember power-on levels, dimming levels, maximum levels, fade rates, and fade time. Two-way data transfer and power are delivered on the same pair of wires, so no separate bus cables are needed.
Since the DALI protocol was established, components from many manufacturers have been certified as compliant with the IEC 62386 standard. Two of GRE Alpha's DALI dimmers, for example, which were on display at the ERG Lighting booth at Lightfair International 2018 in Chicago. The GRE Alpha SLD-DIM DALI dimming module provides flexibility and ease of use for smart home lighting automation projects, while the GLD-DIM, which has an available DALI version, is a compact dimming module that serves as an add-on for constant voltage LED drivers. Both modules are fully compatible with LED power supplies used for IoT lighting. The Internet of Things was a key topic in workshops, product announcements, and networking events at Lightfair 2018.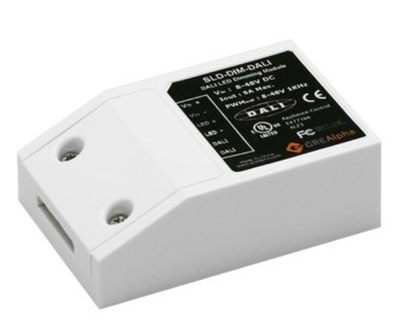 SLD-DIM DALI Dimming Module by GRE Alpha
DALI-2 and Ongoing Developments


Introduced in late 2014, the updated DALI-2 standard, formally known as version 2 of IEC 62386 standard, is another important step towards connecting lighting systems to the Internet of Things. The updated standard was restructured to make it easier to use and fill in the gaps in the original standard. DALI-2 adds new features and commands and introduces standardization of control devices and the addition of input devices, while maintaining backwards compatibility with the original standard.
The most significant change in DALI-2 is the addition of control devices including application controllers and input devices that were not included in the original standard. Application controllers are intelligent controllers that take information from input devices or other controllers and make decisions and send commands. They can operate as single masters or multi masters. Input devices, on the other hand, are simpler and include push-button switches, sliders, and sensors. They're used in event-driven mode and provide information to the system.
Other improvements of DALI-2 include:
Improved multi-vendor interoperability
Insensitivity to polarity for easier installation
Querying of the light source type for greater control and easier maintenance
Enabling of bus-powered units, which means less wiring upon installation or retrofit
Extended fade time from 100ms to 16 minutes to allow for greater design flexibility and improved user experience
Manufacturer-specific operating modes for improved interoperability and flexibility
DALI-2 also allows an additional 64 addresses for devices such as keypads or sensors. With a total of 128 addresses on a single DALI-2 network, more flexible lighting systems can be built with less complexity and cost. The standardized DALI data model specifies the format and content of measurement and diagnostic data and the location of data in the DALI driver. This allows for seamless information exchange between products such as DALI dimmers, drivers, and other components.
DiiA continues to introduce further enhancements to extend the DALI lighting protocol to enable new possibilities for lighting designers in the age of IoT. For example, DiiA is developing a specification for DALI drivers to power sensors and communications devices within luminaires, and to establish a network inside a luminaire. Other changes will enable intelligent lighting fixtures to communicate with the IoT with DALI-enabled nodes and to allow luminaires to be upgraded to the latest IoT technology. For LED lighting systems, new additions to the DALI-2 standard will also offer support for color control (RGB and temperature) and allow better reporting of energy usage and LED temperature.
As with the original DALI standard, lighting equipment manufacturers must go through a rigorous process for each product to achieve DALI-2 certification. The process is managed and operated by the Digital Illumination Interface Alliance (DiiA). Only DiiA-certified products can carry the DALI and DALI-2 logo, and only DiiA members can certify their products.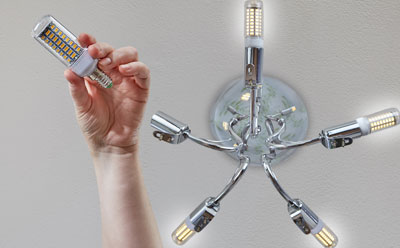 DALI 2 standard will introduce controllers to various devices such as these bulbs
Conclusion


When selecting the best LED power supply and dimming modules, lighting designers and architects should keep in mind the many advantages of the standardized DALI protocol. DALI and DALI-2 certified lighting components offer a robust, reliable, and cost-effective approach for creating lighting systems that are more easily integrated into the IoT. By standardizing measurement and control data and protocols, DALI dimming modules and LED power supplies used for IoT lighting offer benefits such as ease of installation, flexible design, and interoperability.
GRE Alpha is a member of DiiA and continually works within the alliance to develop DALI dimmers and other LED lighting components to enable advanced IoT lighting systems.
Filed in: Industry